Chevy Makes the Blazer Fuel-Independent With New Electric Variant

What to Expect From the 2024 Chevy Blazer EV
The popular Blazer SUV is popular for good reason. There isn't much you could do to improve on the current model. That said, as high as gas prices are these days, just about any vehicle could be improved by not having to spend money to fuel it up.
Thankfully, Chevy is on the cusp of releasing the 2024 Blazer in electric form to dealerships in the very near future. The SUV, officially known as the Blazer EV, will offer all of the Blazer characteristics drivers have come to love but without the need to pay for fuel thanks to its efficient electric mobility.
Blazer EV Electric Range and Specs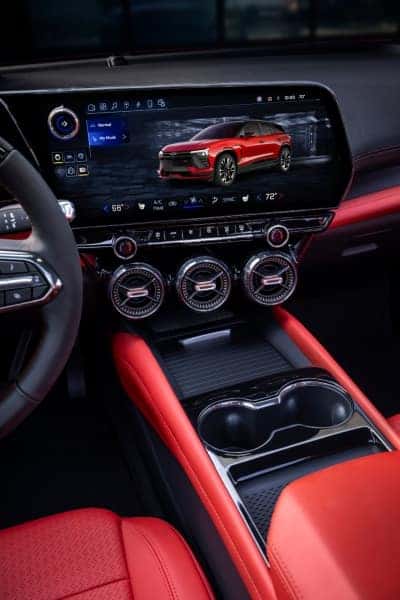 Unlike many electric vehicles, the Blazer EV has multiple trim levels that each offer its own electric driving range. Here is how it breaks down:
1LT – 247 miles
2LT – 293 miles
RS – 320 miles
SS – 290 miles
To put that in perspective, that top range of 320 is nearly enough charge to get you from here in Rockingham, NC all the way to Atlanta without stopping to charge up. The Blazer EV is also the first electric model to feature Chevy's SS performance line, which injects the SUV with 557 horsepower and 648 lb-ft of torque.
The High-Tech Blazer EV
At the front of the cabin, the driver (that's you) is greeted with a pair of digital screens. One replaces the analog instrument cluster you may be used to and provides you with even more key vehicle data. Meanwhile, to the right, the central multimedia display that stretches an incredible 17.7 inches gives you access to Android Auto, Apple CarPlay, navigation and more.
In addition, Chevy has replaced the push-button start system in the Blazer EV. No, that doesn't mean you have to go back to using a key. As easy as push button start may be, starting the Blazer EV is even easier. Just have the key fob on you and tap the brake when you get in the vehicle… That's it. The Blazer EV is ready to go.
Looking for open bed capability? Check out the Silverado EV
The 2024 Blazer EV not only heralds a new era in Chevy driving but also a new era in electric mobility overall. Chevy has yet to confirm exact MSRP info, but the model is estimated to start at an MSRP of $44,995. To learn more or check on its availability for a test drive, reach out to the auto experts here at Dieffenbach GM Superstore.